eOne Selling Kit for our GP Partners
---
Hey you…. yeah, I'm talking to all of our Dynamics GP Partners out there! For those of you who know the eOne crew, you know we like to work hard but have some fun while doing so. Martin and the eOne family spent an afternoon creating some hilarious videos just for you to help you identify opportunities and successfully sell the eOne products into your existing GP base. I challenge each and every one of you to watch these videos without laughing!

In all seriousness, at the end of the day, our goal is to provide tools that make life easier using your ERP and CRM solutions, so that you can say yes to very specific business requirements, report more efficiently, and future-proof your integrations.  Below we've packaged resources for each tool that eOne offers for Dynamics GP.   Take a look, and bookmark what's most useful to you.  We guarantee there is plenty there to help you sell more and make your customers happier GP users.

Our Challenge for You

Just to make this a little more interesting (and hey who doesn't like a good challenge) – I am giving away a $500 bottle of Penfolds Grange Aussie wine for the person who submits the best sales story about how he or she used the eOne Sandbox to sell eOne tools.


SUBMIT YOUR SUCCESS STORY HERE



SmartConnect – No code integration for GP and much more.




This 7-minute video features topics including:
Why use SmartConnect?
A real-life everyday scenario where SmartConnect is needed for GP integration
A sample sales order processing scenario automated between Dynamics 365 Sales and GP that you can demo.
Related resources:
Learn how easy it is to demo SmartConnect using the eOne Sandbox and scripts.

The eOne Sandbox has also proven to be a great environment for pre-sales, consultants and really, for people who'd like to test something out quickly.

 (www.eonesolutions.com/sandbox)
eOne Sandbox FAQ – Take a look at common questions and how-tos.
SmartConnect Pricing:  Available at our eOne Shop.  
SmartConnect Training Opportunities
Getting started with SmartConnect:

(Blog) Part 2: Introduction Video, Resources and Training

Check our SmartConnect Integration Templates that will help you get those integrations off to a great start.

Using SmartConnect with Excel – It's easier than you think  


This 7-minute video features:
A real-life scenario relevant for every accountant:  submitting journal entries.
How accountants can save many hours of work by clicking a button in Excel to push them into GP. (SmartConnect is powering the integration between Excel and GP).  Let's face it.  We know every accountant loves Excel, so this is very appealing and something all GP accountant users love.
 A sample Journal Entry Template that is available to demo on the eOne Sandbox and also with any purchase of SmartConnect.
To demo SmartConnect with this same scenario, go to the eOne Sandbox (
www.eonesolutions.com/sandbox
).
Related Resources:
Check out the

Excel-GP Integration templates

 available to download and import into SmartConnect from eOne's website.  Other examples of templates available from eOne's website include (but are not limited to):  

Importing Journal Entries from Excel into GP
Importing Payables Transactions from Excel into GP
Importing Customers from Excel into GP
Importing Time Sheets into GP
and much more!

As an FYI, SmartConnect supports integrating with many types of files. Learn more about how you can connect to your data here.
SmartConnect Versus Integration Manager

This 4-minute video includes:
Common challenges most customers using Integration Manager face.
How you can "knock the socks off" your customer with a supreme demo that will show taking data from a CSV (or another file type) with 10,000 customers and pushing that data into Dynamics GP.  
Tips on using the eOne Sandbox (www.eonesolutions.com/sandbox) to demo this scenario in 2 minutes.
Help your customer do more and save tons of time with SmartConnect. 
Related resources:
Recode and Automate with Flexicoder


What does
Flexicoder
 really do?  At the end of the day, Flexicoder saves you tons of time by eliminating manual coding time and errors.
In this 5-minute video: 
My colleagues Jared and Ethan will introduce you to a common dilemma around recording sales orders in distributions based upon some rule – it's not possible in native GP.  This can easily be solved using eOne's Flexicoder tool.
Go to eOne's Sandbox at

www.eonesolutions.com/sandbox

and Martin gives you a 2-minute demo of Flexicoder, which is all ready to go in that environment. 
Related Resources:


SmartList Builder – an easy sell into your existing base
SmartList Builder versus SmartList Designer.  See the full checklist comparing eOne's SmartList Builder vs. Microsoft's native SmartList Designer.  Even though there really isn't a comparison between the two tools, but we do get a lot of questions about the differentiators.  This is a good reference to share.
SmartList Builder Self-Paced Training – We recommend this SmartList Builder training for every customer who purchases SmartListList Builder.  It's purchased per company as an annual subscription at the eOne Shop, so you can have as many users go through it as you'd like.
Templates for SmartList builder…."I didn't know those were available" is what i hear often!  Check them out here.

200+ templates for Sample Lists for GP modules:


Sales
Purchasing
Project Accounting
Payroll
Manufacturing
Inventory
Human Resources
Fixed Assets
Financials
Field Service
Company
Canadian Payroll

eOne's SmartList Builder Videos:

Intro to SmartList Builder
SmartList Builder Demo
SmartList Builder vs. SmartList Designer
SmartView  – anyone who uses SmartLists in GP will love this tool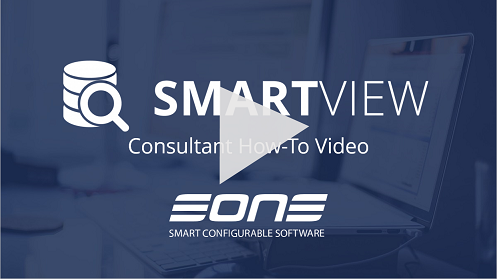 In this 7-minute video:
You'll see a quick role play of common tasks and challenges when working with the native Smartlists in GP: they're slow, only 4 filters, can't subtotal, etc.  
Within a quick demo, see how you can pull back your lists rocket fast, increase the limit of the amount of data you can pull back in your lists, easily subtotal, and use as many filters as you'd like when you're working with your lists.  In the eOne Sandbox, you can show either the internal (version that sits inside GP) or external (version that sits outside GP) version of SmartView.
SmartView will come to the rescue and will be the easiest sell (and demo) you'll have all year.  See how in the video, and visit the eOne Sandbox (www.eonesolutions.com/sandbox) to do your own 3-minute demo SmartView.
Related Resources:
Who is SmartView for?  Anyone who uses SmartLists.  Your customers will be able to use your GP data much more efficiently.  
SmartView Videos: 

Intro to SmartView
Using SmartView to View SmartLists without logging into GP
SmarView and SmartList Builder
SmartView Testimony
Extender – Create user defined fields and windows in GP without code


Data in Excel that really should be in GP? I'm sure the answer to that is yes. Get that data into GP with Extender with 
adding fields, building extra windows and brand new data entry screens in GP – all without writing a single line of code.
Note what's included in this

7-minute video

:
Dave and Pat (who you may know from eOne's support team) introduce the need and reason why Extender exists, and that there really is a good solution to be able to store the data that really needs to be in GP.
Martin highlights two qualifying questions:

"Have you run out of user-defined fields in GP?"  If yes, then show Extender in the eOne Sandbox.

Usually, the answer is "yes", as there are advantages for reporting.

"Would you like those user-defined fields to be more formatted – perhaps check boxes, currencies, numbers, etc.?"  If yes, then show Extender in the eOne Sandbox.

Martin shows how to demo

Extender

using the eOne Sandbox. 
Visit the eOne Sandbox (www.eonesolutions.com/sandbox) to do your own 3-minute Extender demo. 
Related resources:
 
Are you new to the eOne Sandbox? Don't worry we can help!
Visit www.eonesolutionsolutions.com/sandbox to access the eOne Sandbox, which is a hosted Windows environment loaded with all eOne tools, Dynamics GP, D365 (Sales, Field Service apps), Dynamics NAV, Salesforce.com, and demo scripts.  Each session lasts for 8 hours, so there is a good window of time to be able to demo and test out scenarios using that environment.  We recently made some updates to give you the latest and greatest. Check them out here!
Perform a demo anywhere, anytime by simply opening a browser.
Used by Account Managers, Presales, Consultants.
Demo Scripts available to help you win the sale and earn your commission.

Additional Resources: 

Pricing and Ordering
eOne Pricing for software, bundles, training, services, and support is available at the eOne Shop.
Creating Quotes on eOne's website:
Placing Orders on eOne's Website:  
You'll see that you can do all these things yourself at the
eOne Shop
.

Training and Support
About eOne's Training Offerings
eOne Events Calendar:

  Available here; includes sign-up for Training, Demos, Special Events, and Conferences.
eOne Support Center:

  Available here, where you can access eOne's Forums, Help Articles, User Manuals, Submit Tickets, and Search eOne's site.

Online User Manuals:
  Available 
here
 as a PDF and as an online version.  Per product, they include technical requirements, install, setup, maintenance, and upgrade information.
Looking to do more and bring the eOne tools to market?
eOne is looking to truly partner with you to help you sell more GP and make your customers successful.  We are here to work as an extension of your team and can help with implementing targeted strategic campaigns, host webinars, and provide all the content you need to make this as easy as possible.

Email me at naomi.olson@eonesolutions.com, your account manager, or our sales team (sales@eonesolutions.com) to discuss the next steps.  

I can't wait to hear from you!