Directions EMEA: Top 10 Reasons to Attend
---
Are you an enthusiastic professional in the Dynamics 365 community? If yes, then
Directions EMEA
is an event that should be on your radar. The premiere conference in EMEA brings together the best and brightest minds in the Microsoft Dynamics 365 ecosystem, offering an unparalleled opportunity to learn, connect, and grow. Whether you're a developer, consultant, business owner, or just a Dynamics enthusiast, here are the
top 10
reasons why attending Directions EMEA should be at the top of your to-do list: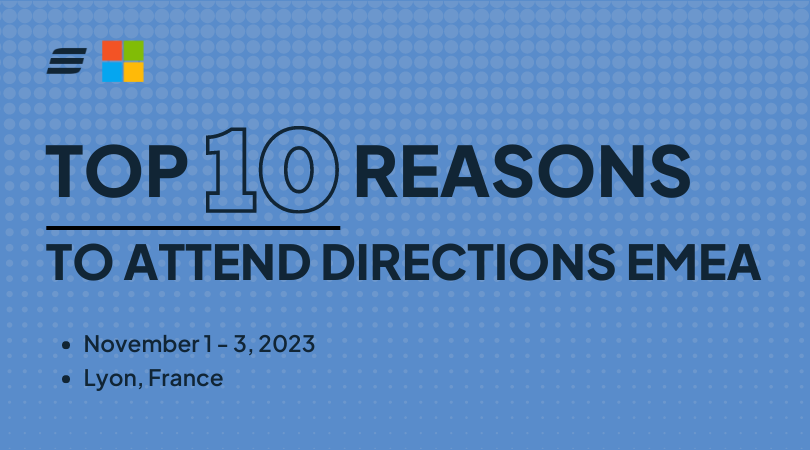 Knowledge Sharing: Get ready to dive deep into the latest trends, technologies, and insights into Dynamics 365. Directions EMEA offers an impressive lineup of expert-led sessions and workshops, allowing you to enhance your knowledge and skills.
Networking: Connect with like-minded professionals, industry experts, and thought leaders. Exchange ideas, experiences, and strategies, and create valuable relationships that could last a lifetime.
Partner Connecting: We love engaging with an ecosystem of partners who share our passion for making Dynamics a better space. At Directions, you can collaborate on projects, discover potential synergies, and explore new partnership opportunities. 
Cutting-edge Content: Stay ahead of the curve by accessing exclusive content that covers everything from technical sessions to marketing sessions. Gain insights into the future of Dynamics 365 Business Central and learn how to leverage the latest advancements for your business.
Creativity Boost: Visit on-site booths and attend innovative sessions to spark your creativity. Discover new ways to solve challenges, develop creative solutions, and unlock your potential as a Dynamics partner.
Industry Insights: Get an in-depth look at industry-specific solutions and case studies. Learn how Dynamics 365 is transforming businesses across various sectors and take away actionable insights for your own organization.
Leadership Lessons: Directions EMEA is your annual chance to attend keynote presentations delivered by industry leaders and Microsoft executives to gain insights into the direction of Dynamics 365, learn about market trends, and gain strategic perspectives for your individual professional journey.
Pre-Conference Training Opportunities: Take advantage of Pre-Conference Training Opportunities offered at the event, including ours! This year, eOne is offering a pre-conference training, 'Migration from Historical ERP to Dynamics 365 Business Central and Virtual Integration.' You can register for our training with

this link

. Training sessions cover a lot of different realms of Business Central, ensuring you get a well-rounded learning experience.
Diversity of Sessions: With a diverse range of sessions spanning technical, functional, and business-oriented topics, there's something for everyone. Customize your experience based on your interests and goals.
Renewed Motivation and Energy: Sometimes, all you need is a dose of inspiration to reignite your passion for your work. Directions EMEA's vibrant atmosphere, industry camaraderie, and knowledge-sharing can leave you feeling reenergized and ready to tackle new challenges.
In conclusion, Directions EMEA is an experience that offers unmatched value for Dynamics 365 Business Central professionals. If attending the conference isn't possible for you, yet you're still interested in delving deeper into eOne's Dynamics 365 Business Central solutions, you can access our
SmartConnect integration solutions here
, and our
Popdock reporting solutions here
. From knowledge acquisition to networking opportunities and partner interactions, this event has it all. So, mark your calendar and join us for learning, growth, and partnership at Directions EMEA. We'll see you there!
Questions? Reach out to our sales team at

sales@eonesolutions.com

or give us a call at +45 8082 0991.