I would like to use my Office 365 email account to send emails from SmartConnect, is it possible to configure this? 
---
Yes you can configure SmartConnect to work with Office 365 email accounts.  
First open SmartConnect and go to the Setup tab, click on the Setup button, and then select the E-mail Settings tab.  In this tab, you need to put the SMTP Server as smtp.office365.com, the Port needs to be 587, and the Use Ssl checkbox must be checked.  Then enter in the username and password of the email account you wish to send the emails from.  My email in the screenshot here is configured to use the eonesupport@eonesolutions.com account, however you need to use an account from your organization.  Press the Test Email button after entering the information to confirm the username and password are correct.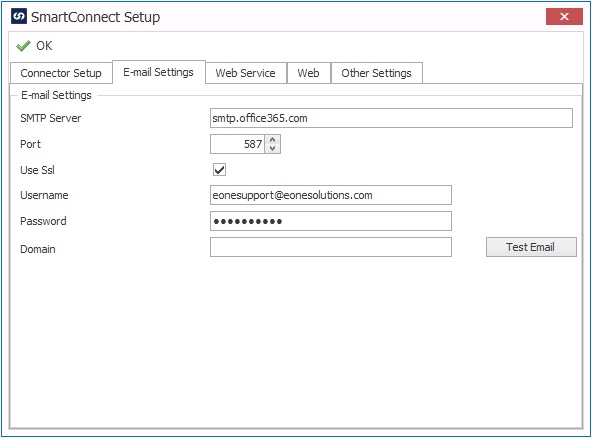 The second requirement is that the "From" email address in your individual email task needs to be from the same account you configured in the email setup.  Here is a screenshot of what my "Send Email" task I have configured on map failure.  If the "From" email address does not match the account you configured in the "E-mail Settings" tab, the email will not send.  
Also if the map is running on a schedule, you MUST restart the eOne SmartConnect scheduleing service to get it to use the new email settings.