Top 10 New SmartConnect Features Delivered in 2015
---
Happy New Years Eve to you!  2015 has brought about very exciting growth and innovation at eOne, and we'd like to take a moment to look back and highlight the top 10 most popular features we delivered in 2015 for SmartConnect, our no-code data integration solution:
General Enhancements
1.
 When you're in the
SmartConnect Mapping Window
, you now have the
ability to see both the technical and display names.

2.  
When you're using the scheduler within SmartConnect, you're
now able to specify an End Time.



3.  
When you're looking to leverage eOne's pre-built integration templates (as a starting point for, say, GP-CRM integrations), you now have the ability
to load map templates from the eOne website into SmartConnect without needing to download files.
 Note, however, that we will continue to also make the integration templates available for file download on our website too.
4.  You now have the ability to add secure global variable functionality, which will encrypt data as you're creating the secure global variable.
 This is important, especially when working with sensitive data like passwords, secure tokens, and connection strings.  Once the secure global variable is created, you can then use it within any script.
For Microsoft Dynamics CRM
5.
  We've
added a List Option Lookup within our data transformation options
to make it a little easier to work with option sets (also known as picklists).  SmartConnect now dynamically looks up the picklist from Microsoft Dynamics CRM at runtime.  So for example, if you've customized CRM and changed values within a picklist, SmartConnect will now recognize those changes as long as they've  been published in CRM.
6.
  We've also
added an Activity Party Column
within our data transformation options, which is important for scenarios where you're working with activities in Microsoft Dynamics CRM (like emails, phone calls, appointments, etc.).  This facilitates linking entities within Microsoft Dynamics CRM to required people/groups.
For Microsoft Dynamics GP
7.
SmartConnect now supports Microsoft Dynamics GP 2015 Service Based Architecture
.  This means that any standard service within SBA along with GP data you've made available via
Service Builder
is accessible with SmartConnect.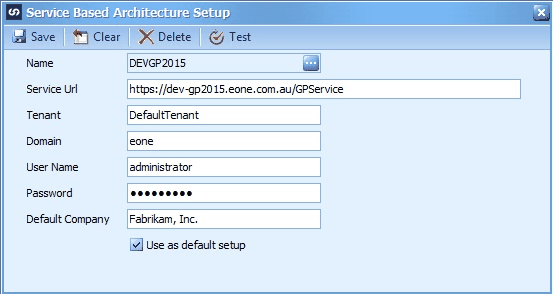 For the SmartConnect WCF Service
8.  
The SmartConnect WCF service is the REST service for SmartConnect.  We've had this for a while and people can call the REST service to do things like SmartConnect to run their run their integration, pull back their data source of a map, and many other fun things.  
Now, SmartConnect WCF can send receive JSON.
 Pretty exciting stuff…
The SmartConnect Web Client
9.
 We've
released our first phase of the SmartConnect Web Client.
 This version is especially useful for end users that need to run maps, fix errors, and monitor scheduled and real-time maps.
The Xero Connector
10.
 By popular demand,
we've added our first version of our
Xero Connector,
which is a cloud accounting and book-keeping solution.
BONUS!!   

We also released our

Zendesk-CRM Connector

this fall
, which allows for two-way integration between Microsoft Dynamics CRM and Zendesk.  Zendesk is a best-of-breed customer service & ticketing support system.

These are just a few among many new updates that arrived in 2015.  A complete list and detail on these new features can be found
here.
If you have any questions, please do not hesitate to ask!  You can contact us at
sales@eonesolutions.com
.  
Cheers!