We are so excited to send our team back to Australia! After a long wait, we are looking forward to returning and reconnecting with our Australian colleagues and partners. While we're there, we will be offering two bootcamps: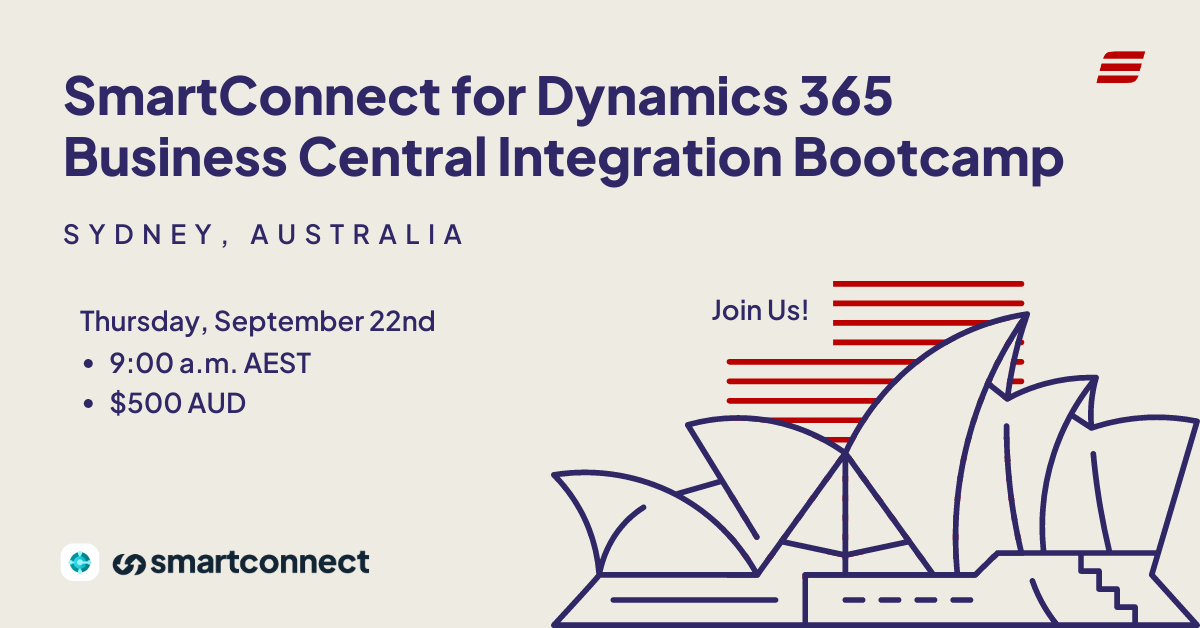 Dynamics 365 Business Central Integration Bootcamp
Thursday, September 22nd
9:00 a.m. – 5:00 p.m. AEST
$500 AUD
We all know that integrations can either make or break the success of your business operations. Avoid the hurdles and become an integration expert by attending our D365 Business Central Integration Bootcamp. This all-day bootcamp will help you get the most value out of your SmartConnect investment.
Throughout this instructor-led classroom training, we will cover the fundamentals of SmartConnect and dive deep into critical integration topics. Key topics covered during the bootcamp:
Understanding SmartConnect and its capabilities.
Mapping data between different systems.
Building and executing integrations with confidence.
Troubleshooting and optimizing integrations for efficiency.
Best practices for integration projects.
Leveraging integrations to streamline business processes.
Whether you are approaching a brand-new integration or have prior experience, our bootcamp is designed to cater to all skill levels. By the end of the bootcamp, you'll have the skills and confidence to tackle any Dynamics 365 Business Central integration challenge that comes your way.
Popdock Bootcamp
Friday, September 23
9:00 a.m. – 5:00 p.m. AEST
$500 AUD
Popdock is a powerful data reporting solution that can transform the way you analyze and utilize your data. This bootcamp will guide you through the essentials, from setting up your account to mastering key features such as creating lists, combining data, and embedding Popdock content in your end users' applications. Whether you're new to Popdock or eager to enhance your skills, this expert-led session will empower you to optimize your Popdock experience fully. With the ability to effortlessly report on data from any of your apps, Popdock will revolutionize the way your organization makes data-driven decisions.
If have any further questions about the bootcamps, please send us an email at sales@eonesolutions.com or give us a call at +1 (888) 319-3663. We can't wait to see you in Sydney this September!