reIMAGINE Conference 2014 Recap
---
By now, we hope you are finished recovering and getting back to business after an incredible week in Fargo for reIMAGINE 2014!
As one giant GP partner community we know you work extremely hard to make sure GP is the ERP platform of choice, and we sincerely hope we you were able to leave Fargo with some new insights and points of view. A huge thank you to all who attended our pre-conference SmartConnect & Sales Bootcamps and our reIMAGINE sessions. 
While everyone was able to make several debits to the work hard account, we wanted to make sure the play hard account was in kept balance. So, it was no surprise when nearly 400 people were able to join us at the first ever eOne SmartnerParty on Monday night. For those of you who were at reIMAGINE but weren't able to make it to the party, we heard that it was a typical night on "Dancing with the Stars" and the TV's in the hotel rooms were adequate size. We hope you can join us at the next one! 
Below we've included a brief recap and some snapshots collected throughout the week! Have any pictures from reIMAGINE? See anyone you know? – Feel free to share them.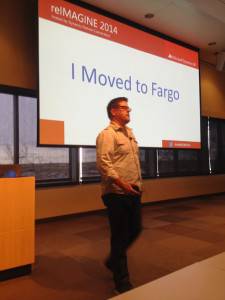 Monday morning started off as strong as the coffee. Martin's session was about creating a world class demo and never loosing another GP deal. At first you might have thought he was crazy after finding out how he uprooted his life in Sydney, AU and moved to Fargo, ND to help make GP the best ERP ever. However it was clear that sometimes crazy just works!



To start out the week of reIMAGINE, we hosted pair of sales and technical Bootcamps – above is a quick snap of Martin welcoming everyone to the Sunday Sales Bootcamp at the eOne Fargo Office. The Sold-Out SmartConnect Bootcamp was a two-day training held at the conference center. The energy and excitement in the bootcamps definitely helped set the pace for the entire week. So again a special thank you to all of our partners that were able to attend!



A big thank you to Dynamics Partner Connections for putting together yet another fantastic event! Andy Hafer, CEO of Dynamic Communities was greeted by SmartList Builder. We're sure the two spent hours upon hours discussing the power of SmartList Builder.

This year there was a good mix of both sales and technical tracks. Abbey, our sales manager, was able to meet with several of our partners. Above she is being interviewed by Jesse from eTelligent before the opening session of reIMAGINE.
SmartList Builder loves our partners as much as the camera loves him. He took this photo opp with our friends from Broadpoint Technologies!

Everyone seemed to enjoy the opening reception on Monday night at the Microsoft campus. We got to connect with those we rarely see in person. One of our support guru's, Dave, had the opportunity to meet some partners that he assists from time to time. Everybody was having a good time, but little did they know the fun had yet to begin.

SmartList Builder at Shotgun Sally's "helping" the team get ready for the SmartnerParty.

Part of the eOne team taking a break from setup to snap a quick picture at the photo booth. 

Blaise, from ADP, was working on his Giant Jenga skills.

So you thought you could play? We had over 90 intense games of ping pong – however no one could defeat Martin in the first ever eOne Ping Pong Challenge! Over $160 in donations were raised for the Fargo-Moorhead Coalition for Homeless Persons.

Martin making a special shout out to the newly certified class of SmartConnect consultants & thanking our wonderful partners!
Did you take some photos at the SmartnerParty photo booth? If so, we'd love to see them!



Also, if you braved the cold and ventured out to the HoDo on Tuesday after the Doug Burgum keynote, we hope you enjoyed some HoDo cocktails mixed specifically for eOne guests!
Again, thank you Microsoft and Dynamic Communities for hosting such a wonderful reIMAGINE conference! If you couldn't make it this year we promise you that next year will be even better! You can check out the highlight video: