Calling all Partners! Are you planning to be live and in-person at Directions North America this April in Orlando? We will be there, and we're excited to see you!
We are a Diamond Sponsor at the event, and we will have team members from every department in attendance. You can find us at booth Diamond – 101, and we will be happy to chat with you about anything you might be interested in.
Also, don't forget to join us for our new Workshop Training: Legacy Data in D365 Business Central! Your customers want access to legacy data, and up until now, there hasn't been a practical or cost-effective solution to this problem.  In this hands-on, 3-hour workshop training, our product team will dive into delivering legacy data access in Dynamics 365 Business Central using Popdock.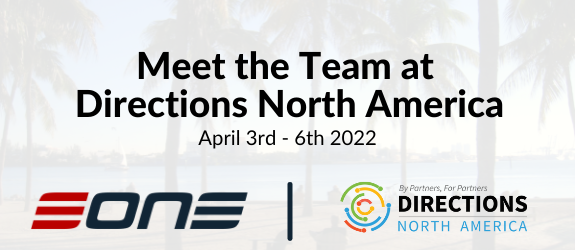 Who Will Be There from eOne?
Team members from eOne at Directions North America will include:
Mark Anderson, Senior Technical Consultant  – Mark has over 30 years experience working on integrations, from accounting systems to CRM systems, he has worked on them all. Worked on Dynamics GP since 1995, on CRM and SalesForce since they launched and over 5 years experience on Business Central.
Michelle Aune, Partner Development Manager – Michelle joined the eOne team nearly three years ago and takes care of our partners in the western United States, Canada, and Australia. She's passionate about automating processes to increase efficiency and reduce expenses.
When not working, Michelle enjoys Minnesota Twins baseball, time at the lake and volunteering with local pet rescue groups.
Alicia Bement, Partner Development Manager – Getting Alicia out of the Dental industry was like pulling teeth, but 8 years into her eOne career she is still putting smiles on thousands of customer's faces. Alicia has a passion for helping customers become more efficient in their daily tasks, by using SmartConnect to automate manual data integration between systems and Popdock for reporting and virtual integration.
Anyone that chooses to live in Fargo, ND, like Alicia, is probably a little crazy but you should jump at the chance to talk integration, virtual integration or about her family.
Mary Charuhas, Partner Development Manager – Mary started in the Dynamics channel as a college intern and loved it so much, she never left! After 6 years working on the partner side, she wanted to expand her knowledge, help partners sell more, and help more customers work more efficiently! She has been with eOne for 2 years, working remotely out of Maryland, and loved every minute of it (despite starting just one month before a global pandemic). Mary manages partner relationships for the Central Region and is passionate about bringing process automation and virtual integration to every Dynamics customer.
Outside of work, Mary enjoys spending time with her family and Aussiedoodle puppy, going to local wineries and breweries, and relaxing at the beach.
Chris Dew, Popdock Product Manager – If you want to talk about data, Chris Dew is your guy. With over 26 years of experience, including the last 16 with eOne Solutions, he has seen it all. Chris has spent the last five years pioneering eOne's Popdock product, the future in data migration and virtual integration.
In his spare time, Chris is very active, with hobbies including pickleball, disc golf, playing guitar, and navigating the new world of being an empty-nester.
Chris Hanson, SmartConnect Product Manager – Chris has been part of the eOne team for the last 12+ years, based in Fargo, ND. Within eOne, Chris has worked through support, development, consulting, and the sales teams before ending up in a product management role. Chris focuses on helping the eOne team and our partners deliver a full integration solution based on our integration platform – SmartConnect.
Outside of work, Chris enjoys a variety of activities with his wife and 2 kids. Hiking, biking, random outdoor games, trips to the park take up most of his free time. Chris also loves to golf, although he doesn't get out as often as he would like. Chris is a huge football fan – SKOL Vikings! And has way too many fantasy football teams.
Rod O'Connor, Product Specialist – Rod has been working with Business Applications since 1997, with many of those years being focused on ERP and associated technology implementation and integration. His experience covers all aspects of implementation, support, and integration – both technical and functional, as a user, an IT manager, a partner, a small business owner, and most recently as an employee of a multi-solution ISV.
Martin Olsen, COO & Product Director – Martin Olsen started as a CPA without the required interest in the details. His tech career began on a GP helpdesk in 1998, and 24 years later he has built a company with more than 20,000 customers and 320 reselling active partners. Martin's mission is to develop tools that help our partners sell more ERP and CRM software.
Katie Soderberg, Sales & Marketing Director – Katie's passion is working with our partners and customers to do business smarter, and to deliver excellent experiences. She loves "geeking out" on business process design, integrating CRM with world-class solutions (especially D365 Business Central and marketing automation), and making life easier for end users. We are looking forward to another great Directions, plenty of good networking and learning opportunities!
*Not Pictured: Andrew Brown, Lead Popdock Developer – Andrew Brown is veteran of the software industry, including the last 21 years at eOne Solutions. He is an Australian, now based in Texas, and he loves to chat about any good meals you've had lately.

Can you still register?
Have Questions?
If you would like to schedule a meeting, reach out at sales@eonesolutions.com  or give us a call at +1 (888) 319-3663