Have you ever wished that you could create a new folder to put some of your SmartLists under instead of always having them under the Financial, Sales, Purchasing, etc. series folders?
With SmartList Builder 2018 (18.00.0013), you now can.  SmartList Builder will now allow you to create new series folders to assign the SmartLists that you create to.  You can also move the default lists to the new custom series that you create by modifying them in SmartList Builder.
SmartList Builder will allow you to create as many new series as you wish using the SmartList Custom Series window.
Once you have created the series, you can assign your lists in SmartList Builder by using the Product of SmartList Builder.  You will then see the Series that you have created to select.
Once you have at least one list assigned to the series, you will see it in SmartList and SmartView.  The lists should sort alphabetically.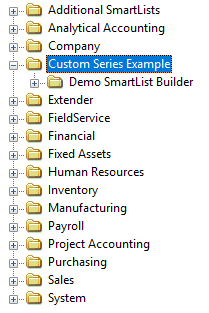 You can find more information about the Custom Series and how to use it in the SmartList Builder 2018 manual.