Employee Spotlight: Introducing Luke Steckler – D365/CRM & Salesforce Channel Manager
---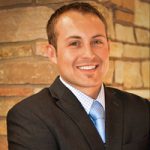 We'd like to introduce you to our newest team member! Luke recently joined our Fargo, ND office as D365/CRM & Salesforce Channel Manager. He's eager to build relationships within the Microsoft and Salesforce channels so be sure to leave a comment to say hi!
In the meantime, you can learn a little more about Luke below:
Do you have any fun projects that you've worked on before coming to eOne? 
I began my career in the college sports world which provided plenty of fun opportunities and now numerous friends who work for professional teams or in college athletic departments. Some of the highlights would be getting paid to attend Minnesota Viking games and being rink side for the outdoor Hockey City Classic at TCF Bank Stadium.

What are you passionate about outside of work?
My wife and I love being active and soaking up every bit of our Midwest summers. We love to golf, explore state/national parks with our dog and enjoy weekends at the lake with family and friends. The rest of the year we're actively involved in our church, love any unique event in the community (ex. farmer's markets, festivals, new restaurants) and love to travel. We also try to mix in a ski trip every winter.

What's on your bucket list? 
Travel, travel, travel! We want to visit all 50 states (29 right now) and all seven continents (just 1 so far). We'd love to attend the Kentucky Derby, The Masters and the Olympics. We also want to spend a couple weeks visiting all of our favorite spots on the West Coast from Seattle to San Diego and make the trip via convertible.

Any fun(ny) eOne memories that first come to mind?
My best eOne memories thus far are the fact I've known Martin for numerous years before coming to eOne through a monthly poker league we both play in. We've both definitely beaten each other a time or two and enjoyed plenty of laughs in between. Also, our team-wide lunch with massive boats of sushi during my first week was fantastic even though I was fighting a food coma the rest of the day afterward.

What's playing in your headphones? 
Most of the time it's a variety of podcasts. Everything from personal, professional and spiritual development to Freakonomics, Choiceology and sports talk. Does that make me a huge nerd? My wife would probably say so. When I'm listening to music, there's a lot of country yet also will mix in a fair amount of alternative rock and hip hop.