An Announcement regarding SmartList Builder and SmartView from eOne Solutions
---
Last month at our
eOne Event 2021
, we announced a licensing change that will benefit all of our customers:  As of January 10, 2022,
SmartList Builder and SmartView are now a part of Popdock. 
Bundling SmartList Builder and SmartView with Popdock is a natural evolution that supports our mission to help customers get even more value out of GP right now. Customers get to take the SmartList reporting they love with them when they migrate to other ERP systems.   
We built SmartList Builder 18 years ago, which in software years would normally mean it's time to retire.  We refuse to let that happen.  Rather than retiring SmartList Builder, we have evolved it and rebuilt it, taking advantage of advances in technology.  
We're proud to say that our new solution is going to knock your socks off. 
Popdock
 provides intuitive SmartList-like reporting across all your business apps, lets you integrate faster, and makes it easy to access legacy system data when you migrate to new systems. 
For GP customers, Popdock will make it easier to: 
Share GP data with external users securely.
Combine GP data with other system data for reports.
Embed & display GP data in other apps with virtual integration.
Use SmartList-like reporting across all their business apps.
Access real-time business app data, anywhere. 
VERY IMPORTANT NOTE
: SmartList Builder and SmartView are NOT going away! We are continuing to enhance them going forward, and they are now bundled in without Popdock Business and Premium Plans.
Future-Proof SmartList Reporting
For our existing SmartList Builder and SmartView customers, we invite you to transfer from SmartList Builder and SmartView to a Popdock subscription.   
As a customer current on your eOne licensing you'll receive 40% off Popdock (Business and Premium Plans) for 3 years with access to: 
Popdock & Plan Benefits.
SmartList Builder
SmartView
Unlimited Support for Popdock, SmartList Builder, and SmartView.
A Popdock Bootcamp Training pass. (1 per year) 
*Offer expires December 1, 2022.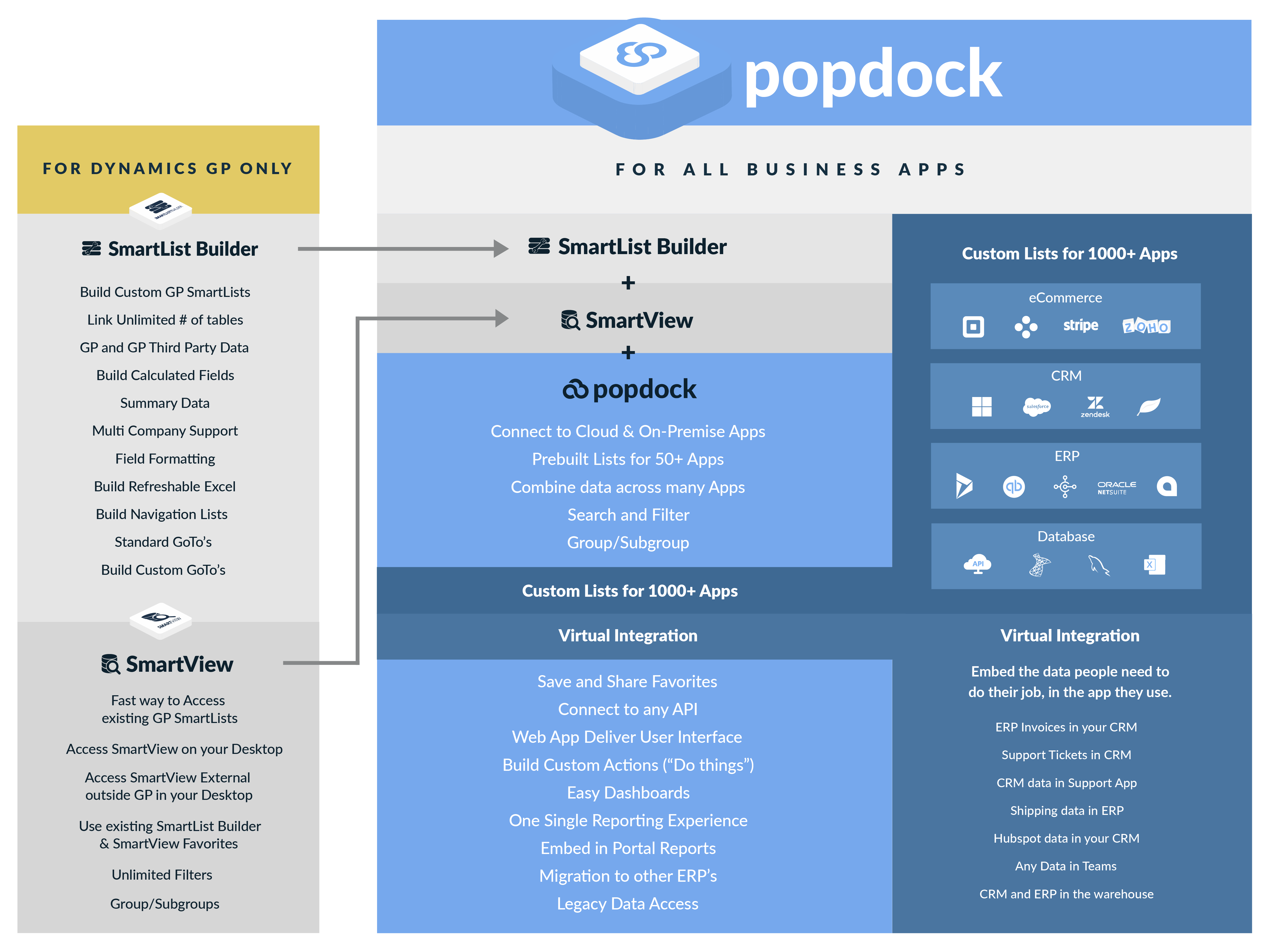 By moving to this Popdock subscription offer, you will no longer need to pay for your SmartList Builder & SmartView AEP.  All the SmartList Builder & SmartView features are included when you subscribe to Popdock. 
Our request is that you get as excited about Popdock, now including SmartList Builder and SmartView Apps, as we are.  Wherever you're at in your system journey, there is a ton of value for our GP customers. We know you'll love it. 
If you have questions, please reach out to our team at
sales@eonesolutions.com