Report From Your Custom App Using the Popdock REST Connection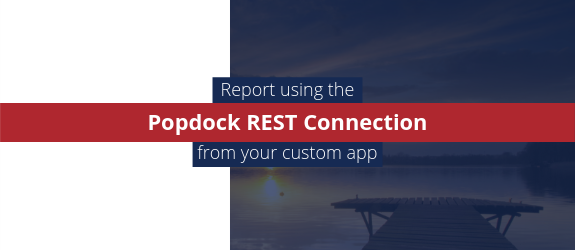 "Reporting is so easy!"  Isn't that what you'd like to say across every business app that you need data out of?  For example,
we use a billing engine that, while it serves it's prime purpose really well, it's not the easiest to report from. 
For that specific scenario, we like using Popdock.  It allows us to set up a connection to the application, build our favorite lists,
and filter with ease based on what we need access to right away.
eOne's Popdock product team has invested a ton of time building out efficient connections to roughly 60+ business applications,
but we know that there are plenty of others out there that we haven't worked on yet.  In fact, you may have a custom application in-house
that you're looking to report on.  To make it easier to report from every other app, we've released a generic REST Web Services Connector
in Popdock where you can set up custom connections to systems that have a set of REST web services.
In this short video, we'll focus on the basics of an API, testing data access from your app, and using Popdock to configure your data.