SmartConnect for CRM Self-Paced Training
---

We have exciting news this week for those of you who are interested in learning more about how SmartConnect integrates with Dynamics CRM. The first self-paced training course for SmartConnect has been released, and Dynamics CRM is the connector highlighted throughout the content and exercises. We have taken the same content that you would receive in a traditional classroom setting and transferred it over to a self-paced environment to provide the same level of learning and engagement for the trainee.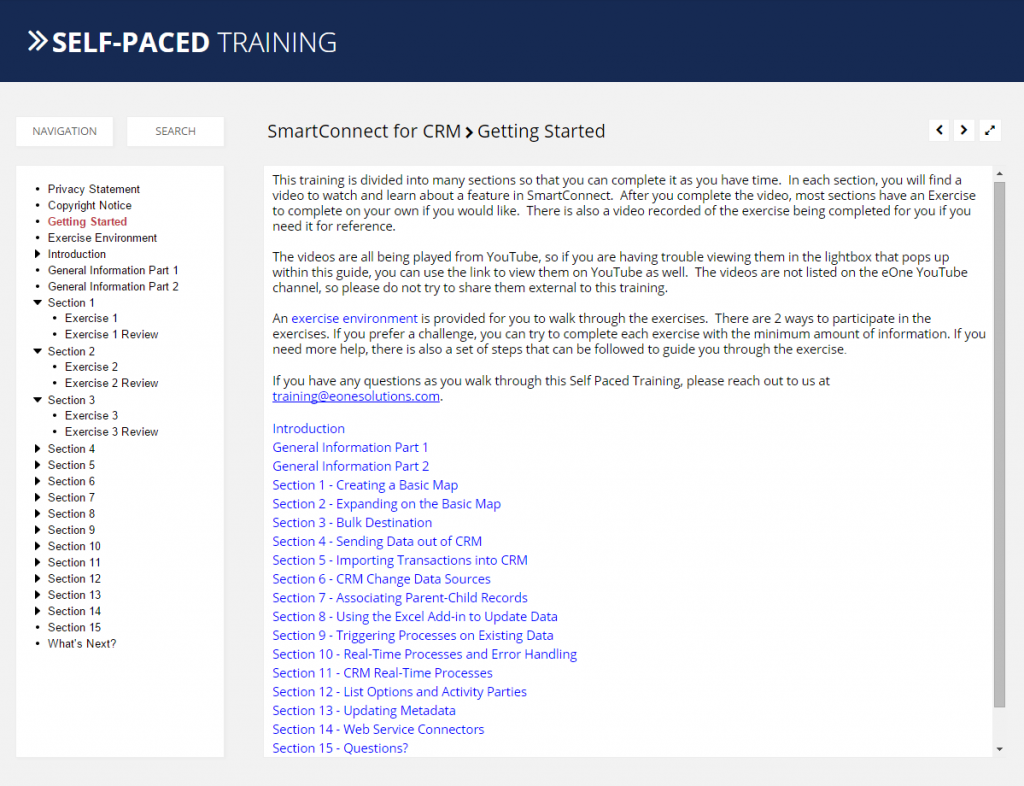 The training has been designed with a focus on the core ideas and features that are necessary to build an integration solution around Dynamics CRM. There are 14 sections in total, each with their own Topic Overview and Hands-on Exercise to complete. A training environment has also been created for use when working through each exercise, and an exercise review video is available for additional guidance on any of the sections.
No matter your experience level with SmartConnect, this training course is setup to guide people in learning both basic mapping techniques and incorporating CRM-specific features. Throughout the exercises your activities will range from creating simple accounts and contacts, to scheduling an automated product integration, to setting up real-time plugins to immediately integrate data in or out of Dynamics CRM. You will also become familiar with features specific to CRM – including (but not limited to) Entity Lookups, List Option Lookups, Activities Parties, Advanced Messages, and Reference Data.


As a current SmartConnect customer, you can purchase 1 year of company-wide access to the training content for $500. If you'd like to renew after the year is up, its only $300! With the renewal, you will receive access to any new exercises that have been added to the course highlights, new features and capabilities within SmartConnect.
If you are not familiar with SmartConnect, I would recommend heading on over to see one of our live demos. But if you do own SmartConnect and are looking to enhance your knowledge and skills around the product, I strongly encourage diving into this training and taking advantage of the flexibility to learn at your own pace.
 Questions? Let us know! Email sales@eonesolutions.com